UL / FM Alarm Check Valve, Vertical Trim (Groove x Groove)
Specification
Valve must be installed in vertical position with the trim as shown.
Any deviation may affect the proper operation of the valve.
Groove to Metric or AWWA C606 standard.
UL listed.
Working pressure:
Cold water, 300PSI,
200PSI or 250PSI available on request.
Corrosion protection:
Internally and externally fusion bonded epoxy powder coated (FBE).
UL / FM Alarm Check Valve, Vertical Trim (Groove x Groove) Material Specifications:
| No. | Part Name | Material | ASTM Spec. |
| --- | --- | --- | --- |
| 1 | Body | Ductile Iron | A536 65-45-12 |
| 2 | Cover | Ductile Iron | A536 65-45-12 |
| 3 | Gasket | Rubber | EPDM |
| 4 | Bolt | Carbob Steel | A307B |
| 5 | Stem | Stainless Steel | AISI 304 |
| 6 | Spring | Stainless Steel | AISI 304 |
| 7 | Disc | Ductile Iron | A536 65-45-12 |
| 8 | Disc Ring | Rubber | EPDM |
| 9 | Seat | Bronze | B62 C83600 |
| 10 | Retainer | Brass | B16 C36000 |
| 11 | Bolt | Stainless Steel | A2-70 |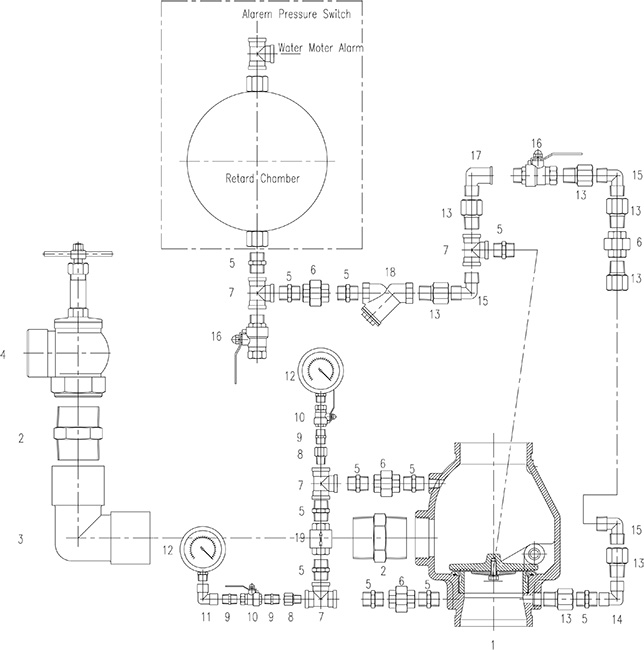 Downloads